BRING OUT THE BAGS!



Hey lookie, lookie, my
Triump push up bra eyebags
! *
gasp
*
I am happy/ecstatic/thrilled that the weekends and September Holidays are nearing!
Finally, a break from all those insane studying.
Anyhooways, tomorrow is the
ACES DAY
cum
Teachers' Day celebrations.
So, every class will have to submit an entry for the class flag competition by tomorrow.
And, the stupid school involved both the sec4s and sec5s.
How clever, really![

sarcastic

]
They know we have the prelims yet they still make us do stupid stuff like this!
Our last paper for the week was today and that means we only have a day[a few hours] to come up with a 1m by 0.5m flag!
But, being the
responsible vice chairperson
that I am, I actually spent time on the bleedy flag by scotch tape-ing pieces of drawing blocks together! LOL. It is still a few cm short though but who gives a bloody damn!
And viola, the oh-so responsible vice chairperson came up with an
alien looking, super ugly, nonsensical flag which he does not know how to bring to school tomorrow
! Oh the joy of it!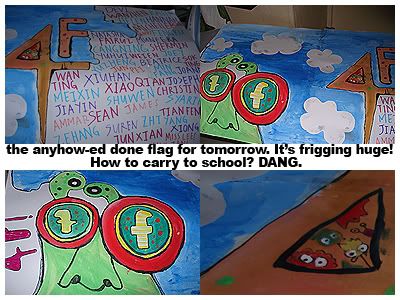 Oh look, the eyes are saying '
F
'!! Not sure if that is even its eyes! Oh well!
Hopefully tomorrow does not rain and spoil my ugly flag! tsk!