PIZZZA ZAAA!!
Yesterday, was an eventful day.
In the afternoon, I went out with my Father and sister to Westmall, to pick out our new spectacles.
After eons of selecting an appropriate pair of spectacles that suited my face, my father sent me off to Bukit Timah Plaza.
Met up with the rest[ or part of] the 08S03 gang there.
Sorry I was late, but I had to bring along pliers right?! Super heavy sia!
It made my bag stink as well!
I brought along the new 8 megapix Canon camera(: It was LOOVEE! The camera functions etc.
Nothing beats, the white Sony camera though!
Anyhoo, we did not know where exactly to make the lantern, so KFC it was!
It was hilarious. We did not want the KFC people to kick us out, so we ordered some food and ate super slowly! hahaha.
Eventually, the KFC people found out that we were just exploiting their eating place to do our lantern, but they did not care. They even gave suggestions to how we could improve our design! HAHA.
So, the lantern does not really look like a mouse, but whatever eh?
Ahlian Airuuuuu!
BF actually used a calculater to calculate the dimensions etc. Siao!
Fooling around with camera functions.
Sheryl is bored.
I love the Colour Accent function of the new camera(:
Let me think....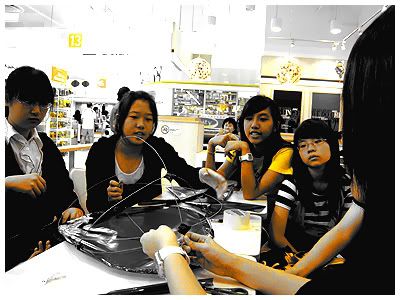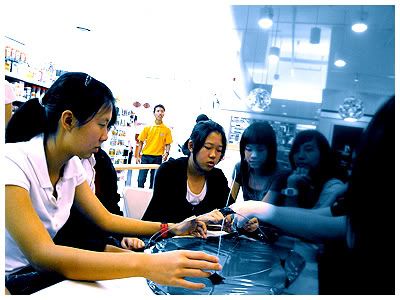 Upon completion of the lantern, some left while others stayed on, to join the seniors as we treat them to a hearty meal at Pizza Hut!
It was really hearty! Cuz, I was super full after! The seniors got 5 12 inch pizzas, while we indulged in 3 pans!
It amounted to 270$ ++!
Crazy.
Anyhoo, I had a great dinner, all the joking around, sprinkling cheese and chilli into each other's drinks etc!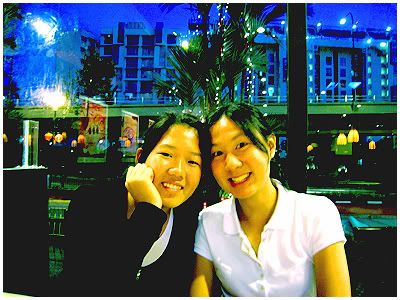 I like this picture. It look like a potrait!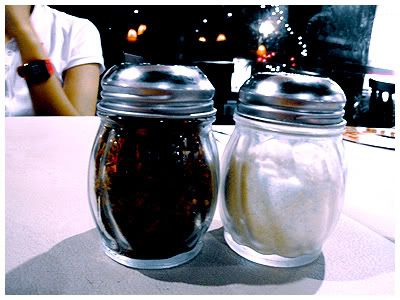 Lixin is suicidal! Hwa Chong or NJ????!!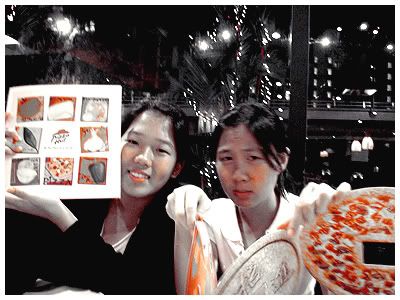 OMGOSH! Orang lips! :x
Huishan and me!
As Huishan says it, poison lips! :x
I got Gatsby hair!(:
Sarah Tan and me(:
Jeslyn and me(:
Let's do this again! Please(:
It's sad to see that some of us are leaving NJ.
What's gonna happen to our class then? 2 boys only?
Are they gonna split up our class?
Gosh. How sad that would be! :(
Alrighty, peace out(: